The supply issues impacting the COVID-19 national immunisation program have become even more evident with an updated analysis at day 150 showing it continues to stagnate and fall behind those in comparable countries with Malaysia the latest to catch up with and pass Australia.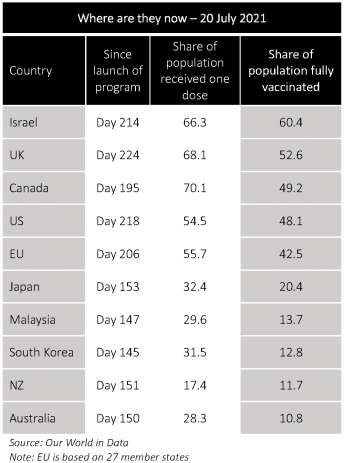 Australia has administered just over 10 million doses in the first 150 days of its program that is currently using the mRNA vaccine developed by Pfizer and its partner BioNTech (Pfizer-BioNTech) as well as the adenovirus viral vector vaccine developed by AstraZeneca and The University of Oxford (AZ-Oxford). The AZ-Oxford vaccine is being produced by CSL at its facilities in Melbourne. The Australian government also has agreements for the vaccines developed by Novavax and Moderna.
The program is preferencing the Pfizer-BioNTech vaccine in younger populations based on advice from the Australian Technical Advisory Group on Immunisation. However, as the supply of that vaccine is currently constrained and the federal government anticipates an expected increase in the coming weeks, millions of doses of the AZ-Oxford vaccine are going unused. The government has started exporting many of these doses to countries in the region.
What is the analysis?
The updated analysis is based on a comparison of the vaccine rollouts in Australia, Israel, the UK, the US, the European Union, Japan, South Korea, New Zealand and now Malaysia. It has compared each rollout based on the percentage of each jurisdiction's population that has received a first and second dose at day 150 since launch. It follows previous analyses at days 30, 50, 100, 121 and 134.
What does it show?
Australia's program will almost always be behind those in many comparable countries because it was launched (21 February) later than those in the UK (8 December), the US (14 December), Israel (18 December), the 27 member states of the European Union (26 December) and Canada (6 January). Its launch was around the same time as programs in Japan (17 February), South Korea (25 February), New Zealand (19 February) and Malaysia (24 February).
Yet even standardising the analysis at day 150 (South Korea day 145 and Malaysia day 147) of each jurisdiction's rollout, Australia's program is not progressing as well as others. It shows the programs in other countries have accelerated and are accelerating at a faster rate.
Australia's program has fallen behind those in Japan and Malaysia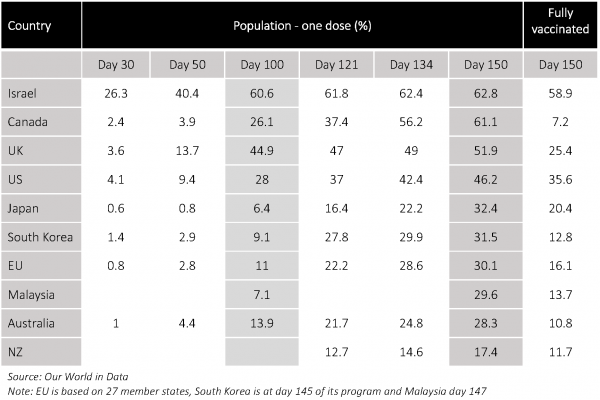 Between day 100 and day 150, the share of Australia's population to have received a first dose of the vaccine rose from 13.9 per cent to 28.3 per cent.
This compares to Canada, which went from 26.1 per cent to 61.1 per cent, South Korea, which went from 9.1 per cent to 31.5 per cent, and Japan that went from 6.4 per cent to 32.4 per cent.
Possibly more concerning is the fact Malaysia's program has accelerated at a much faster rate than Australia's.
At day 100, Malaysia had administered the first dose to 7.1 per cent of its population - around half of what Australia had achieved (13.9 per cent). It has now passed Australia with 29.6 per cent of its population administered the first dose. Malaysia has administered over 14 million doses compared to Australia's 10 million.
Malaysia is using multiple vaccines, including AZ-Oxford and Janssen. It initially used the vaccine developed by Chinese company Sinovac but is phasing it out.
The analysis also shows Australia's program is stagnating compared to those in comparable countries
At day 100, Australia had administered the first dose to a proportion of its population equating to 53 per cent of what Canada had achieved. At day 150, this has fallen to 46 per cent.
At day 150 of its program, Australia is now behind every country in the analysis except New Zealand.
What about the fully vaccinated?
At day 150, Australia has fully vaccinated 10.8 per cent of its population. This is behind most countries in the analysis, including Israel (58.9 per cent), the UK (25.4 per cent), the US (35.6 per cent), the EU (16.1 per cent), Japan (20.4 per cent) and South Korea (12.8 per cent). The exception is Canada (7.2 per cent).
The analysis on the proportion of the population fully vaccinated is impacted by the dominant vaccine in each jurisdiction because they have different administration timelines. The two doses of the Pfizer-BioNTech vaccine are administered at least three weeks apart. The two doses of the AZ-Oxford vaccine are administered 12 weeks apart. The other confounding factor for Australia is its preferential use of the Pfizer-BioNTech vaccine and the current supply constraints.